Jewelry - Sterling Silver Chain Mail
In the Loop Designs
19783 Greggsville Road, Purcellville, VA 20132
Snickers Gap, Stop #32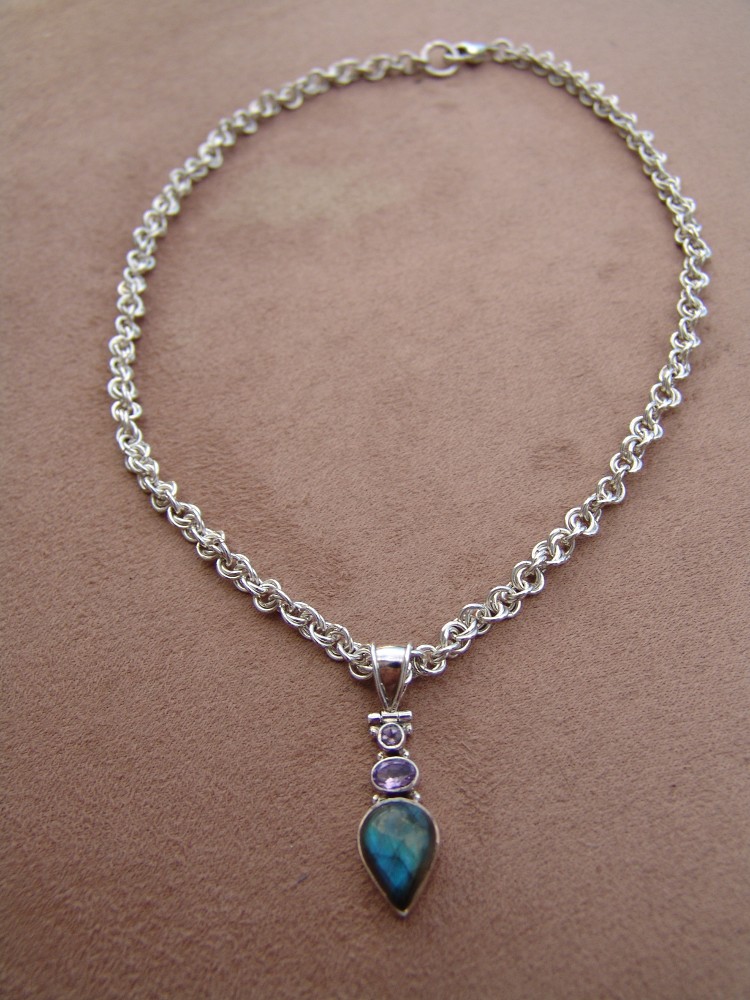 Chain mail is an ancient art form that has been practiced for thousands of years, where rings of metal are woven together in a variety of patterns. I start with sterling silver wire in various gauges (thickness) then coil the wire, cut it (which creates the rings) and weave each ring according to whatever pattern I'm making. By making my own rings, I am able to mix different types of wire (twisted, beaded, smooth, etc) and scale the piece up or down in size.
Each piece is made of hundreds of rings that I open and close. Individually. By hand. It is a slow and exacting process, but one that I find to be very relaxing... my zen space. Sterling silver is a wonderful medium to work with... it is pliable yet strong. There is an amazing community of chain mail artists who are not only creating new weaves, but sharing them in on-line forums. I am always looking for new and interesting ways of combining weaves, gemstones, and beads that I have collected over the years. All of my work is one of a kind and customized for a perfect fit!
Offering on tour: I will demonstrate making rings from sterling silver wire, and the steps necessary to make the cut rings ready for the weaving process. I will also have available my book of patterns, samples of weaves, beads, and gemstones that can be incorporated in my designs.
Directions to In the Loop Designs:
From Rte 7, exit at Berlin Turnpike (Rte 287) and travel south to traffic circle. At the traffic circle, take the 2nd exit and continue south on Rte1610 (William Druham Blvd). At the first stop sign, turn left and travel south on Lincoln Rd (Rte 722) until it ends at North Fork (Rte 728). Turn right at North Fork, then right again at Greggsville. 19783 Greggsville is about a half mile on the left- look for the big red barn!