Ceramics
Guest at Garden Corner Studios
38615 Morrisonville Road, Lovettsville, VA 20180
Catoctin Region, Stop #9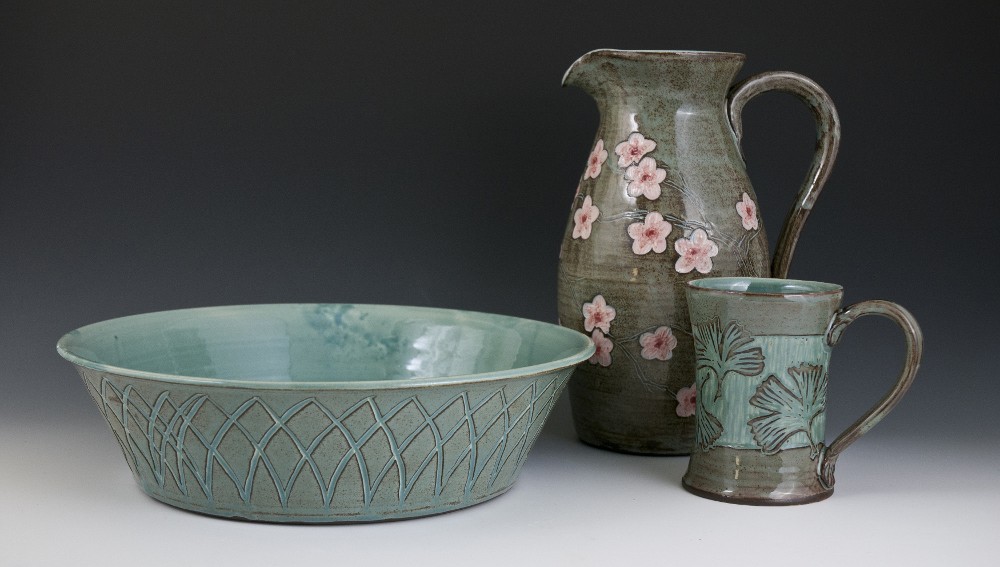 I first experienced ceramics on a whim, just a fun night out with a friend, and I instantly fell in love with the medium and how I could express myself through clay. When I learned wheel-throwing later, I became even more obsessed, and there were nights that I would lie awake thinking about how to move my hands to manipulate the clay exactly how I wanted. It took a while before what I imagined and what I could actually manifest in clay came together.
I have a studio attached to my home where I make and fire all of my work. My husband and teenage children find this thrilling, but sometimes it is a little too convenient. With the exception of Coyote's "Robin's Egg" (which I have previously used extensively), I make all of my glazes in the studio. Glaze chemistry and exhaustive testing and tweaking of glazes is terribly fulfilling for me — when it isn't a total disaster. I like to do what I call "live tests" — I never test glazes on throw-away pots, but always on actual pieces (typically bowls) so that I will give my full attention and care to the piece.
I am also one of the founders of and the Chief Operations Officer for Loudoun Empty Bowls, a non-profit that works with artist donations to raise awareness and money to end hunger. In addition to making bowls for donation, I am in charge of legal filings, online accounting, and building and maintaining the website. This is an excellent outlet for donating all of my glaze tests when they are successful.
I'm drawn by the practicality of functional art, the science of design, and the wonder of holding in one's hands beauty made from mud and fire.
Offering on tour: Functional and decorative pottery.
Visit Jenny Wolfer at Garden Corner Studios
From Route 287 North (north of Route 9), turn left onto Morrisonville Road, then turn left onto Purcellville Road to the studio in the first building on the right.