Fiber Arts
Guest at The Clay and Metal Loft
27 Fairfax Street SE, Leesburg, VA 20175
Waterford/Leesburg, Stop #15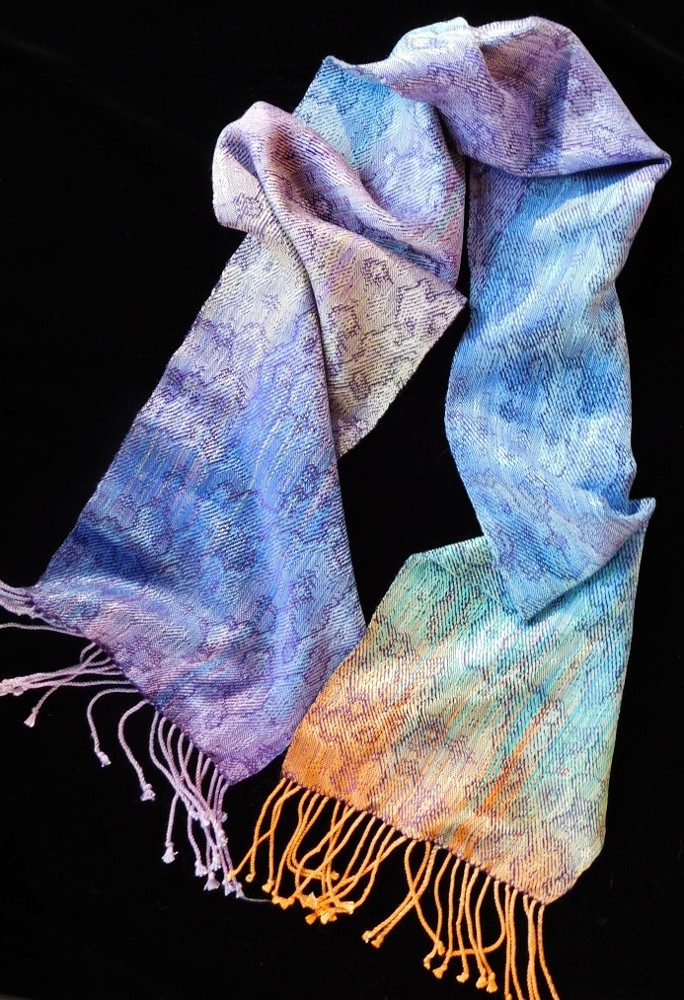 Weaving provides a springboard for me to explore many aspects of fiber art. In my nearly thirty years of weaving, I've tried out many different methods to interlace threads — rigid heddle, Inkle, frame, triangle, and floor looms ranging from four up to thirty-two shafts; but it's also led me to try many off loom interlacing techniques, from the ordinary knitting and crochet to the more exotic Triaxial weaving, Sprang, split-ply braiding and Kumihimo (a Japanese cord making method). And don't let me forget wool felting and silk fusion. All these different techniques and equipment show up in my work from time to time.
Exploring color in my weaving also led me to dyeing my own threads, yarn and fabric such as silk scarves and shawls. I take an experimental approach to dyeing silk scarves. I apply colors in layers and see what happens. I create abstract designs by deliberately changing the contours of the silk scarf, so gravity and wicking action control the flow of color. Or I mask parts of the silk to prevent the dye from penetrating certain portions of the fabric. I recently tried transferring color from other silk fabrics to my scarves.
Counter to my approach to dyeing, my weavings are planned from the beginning to end using a weaving specific design program.
I let my technically inclined brain explore how to combine parallel and non-parallel pattern lines in ways that will create beautiful cloth. I can get very esoteric in how I make the threads interact. I explore the intricate interlacements possible when two threads cross each other and other times I concentrate on manipulating the color of the final product to stretch the predicable colors of commercially available yarns into kaleidoscopic swirls and waves.
Biography
Marilyn learned to weave at Santa Barbara City College in 1990. After she moved back to Loudoun County she joined the Waterford Weavers Guild and took every class, lecture and workshop they offered. Marilyn also picked the brains of the more experienced weavers in the group. Luckily, they were generous and giving women who answered all her questions and shared their knowledge of a craft she was just beginning to understand.
Since that time, she's taken many workshops from leaders in the field. Whenever someone who is well known offers a local workshop or class she signed up. Sometimes she'd go home after the workshop seeing all sorts of magical possibilities and others she'd go home scratching her head and wondering what they could possibly be talking about. Eventually she learned enough to understand. Now Marilyn teaches a Beginning and an Advanced Weaving class every Tuesday at the Art League in Alexandria.
She's a member of Studio Fiber Arts at the Workhouse Art Center in Lorton, VA. She was a founding member of Gateway Gallery in Round Hill, and a recent member of Arts in the Village in Leesburg. She has exhibited her work at the Waterford Fair and at the Torpedo Factory in Alexandria
She is a member of Waterford Weavers Guild, Potomac Fiber Arts Guild, and Complex Weavers.
Marilyn was a member of the Complex Weavers Weaving with Beads study group for many years. She is the coordinator of the Potomac Fiber Arts Multishaft Study Group. She has won prizes for her weaving at the Biennial Blue Ridge Fiber Show in Asheville NC and the Maryland Sheep and Wool Festival.
Offering on tour: Hand woven scarves and shawls, hand dyed silk scarves, and other accessories for the adventurous woman. Weaving demonstration.
Waterford/Leesburg
Stop #15
Visit Marilyn Harrington at The Clay and Metal Loft
From Route 7 East (East Market Street), take a left onto Catoctin Circle SE and follow for approximately half a mile. Virginia Village Shopping Center is on the right and The Metal and Clay Loft is on the left side of the shopping center, behind/near United Bank.